Henry Hansen's RIBES story
Henry Hansen is an early stage researcher within the RIBES network and is pursuing a PhD at Karlstad University, Sweden. He will be using Bayesian statistical methods to develop models that link different river management scenarios to outcomes affecting fish communities and the habitat they depend on. Here he tells more about his background and the research group he is part of.
Hi! I'm one of the new additions to the RivEM group at Karlstad University. I'll be working with the RIBES project, where the bulk of my position focuses on habitat alterations of rivers and fish community responses. Academically, I had excellent experiences studying at the University of Wisconsin-Stout for my undergraduate and the University of Nebraska-Lincoln for my masters. Outside of the academic environment I had many incredible experiences, often dealing with natural resources or geographic information systems. Up until now, I have performed research in seven states, four countries among two continents, and worked for three U.S. government agencies (e.g., NPS, USFWS, USGS), a state government, and a local government as well as a handful of universities.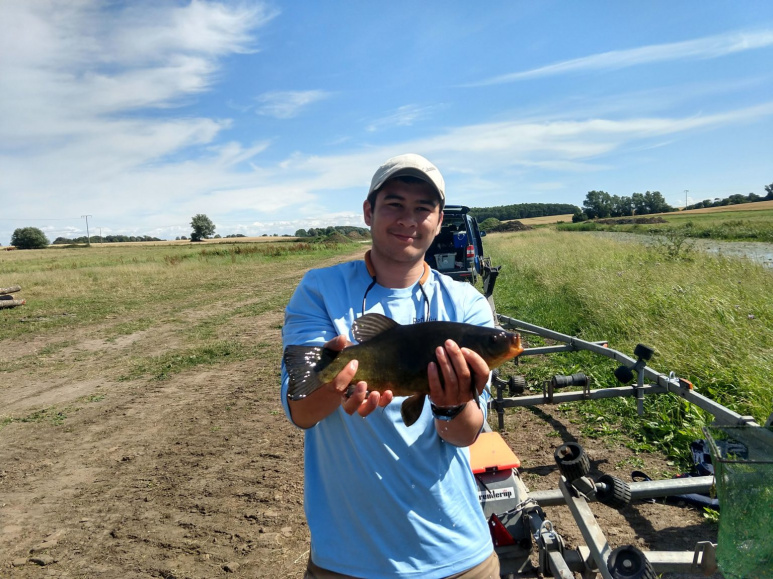 Henry holding a tench caught field sampling in Northern Germany
Research-wise, my work has primarily dealt with freshwater ecology and fisheries, more often from a field perspective. Still, there were undoubtedly plenty of lab experiences too (but I do find the field more fun!). I would say my view of my research goals has changed drastically over the last ten years. I originally got started doing micro-satellite work with brook trout trying to optimize PCR reactions, ultimately answering population genetics questions. During my undergrad, the summers were a full immersion in the diversity of applied research in freshwater systems. These include dealing with invasive and non-native species throughout the Rocky Mountains (e.g., lake trout and zebra mussels in Yellowstone National Park, bullfrogs in the Yellowstone River, rainbow trout in the Crazy Mountains). On the other end of this spectrum, I have assisted with recovery efforts and management of endemic and endangered species (e.g., Higgins' eye pearlymussel in the Mississippi River, pallid sturgeon in the Platte River, lake trout, and native lamprey recovery in the Great Lakes Basin, Bonneville cutthroat trout in Idaho). These projects were eye-opening because they tended to be outside of the academic setting. I observed how people outside of academia used research to help fix problems in socio-ecological systems.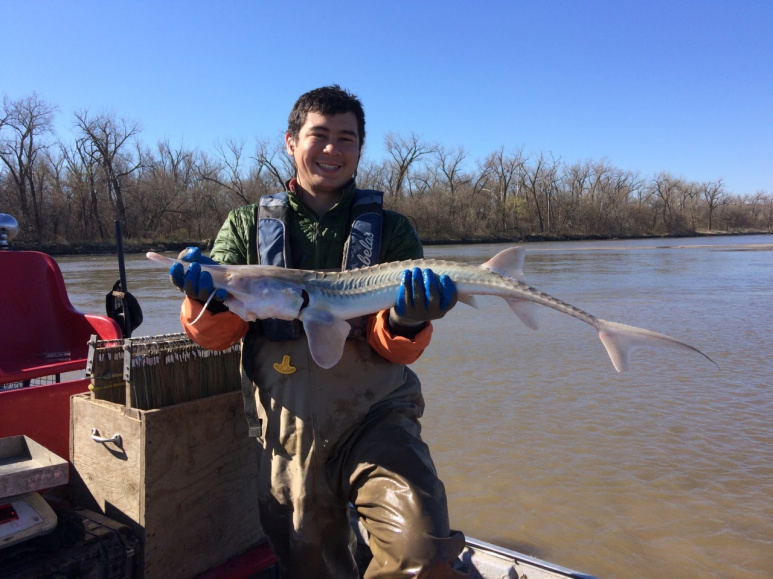 Henry holding a pallid sturgeon caught during Platte River monitoring project.
My master's degree focused on channel catfish long-distance movements in an internationally managed ecosystem (Lake Winnipeg Acoustic Telemetry Project) compounded with the difficulties of managing a mixed-use fishery. The foundation of this problem was ecological, while the problem's tradeoffs were socially and economically dependent. I addressed this problem with a Bayesian modeling framework to quantify movement and an ecosystem services approach to investigate alternative management options (in preparation for publication). These broader system-wide issues helped inspire my Aquatic Sciences publication, highlighting the importance of a proactive management paradigm concerning fragmented rivers and aging reservoir ecosystems.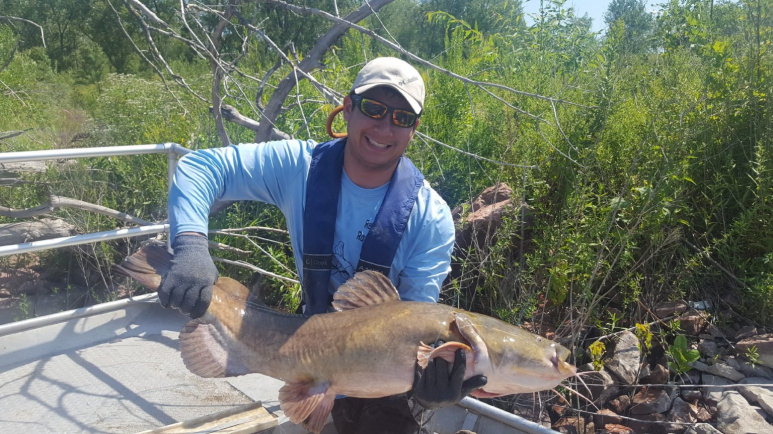 Henry holding a flathead catfish caught during electrofishing in the Missouri River.
I think now I have gone off the deep end into the quantitative realm. Exposure to Bayesian statistics has me wanting more out of the models the everyday ecologist is trying to wrestle in R. I think finding a balance between well-designed field sampling campaigns and well crafted statistical techniques will be my new focus for the next few years. On that topic, I will be at Karlstad University for the next few years to conduct my PhD studies. By being part of the RivEM (River Ecology and Management) group at Karlstad University I am surrounded by experts studying rivers above and below the waterline. My supervisors are Lovisa Lind and Eva Bergman, but I also have Lutz Eckstein and Jan Haas to complete my committee. This interdisciplinary advising team comprises of aquatic biology, landscape ecology, community ecology, and geography perspectives. Most of my research will focus on how fish communities use habitat in altered systems. I will be using Bayesian statistical methods to develop models that link different river management scenarios to outcomes affecting fish communities and the habitat they depend on. I'm really looking forward to working with all of the different collaborators in RIBES and learning new ways to study fish.
Henry with a channel catfish caught in the Red River of the North for his masters work.
Published on: 18/01/2021